Power Points and Safety Switches

Switchboards, switchboard repairs, power points and safety switches may only be installed by a licensed electrician. All of Johns Electrical electricians are fully licenced.
John's Elec holds a current electrical licence which is required to undertake this work.
We will provide an Electrical Certificate of compliance within thirty days of activating our work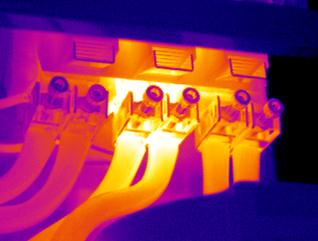 Switchboard Safety Inspection – Thermal Imaging Reports – Commercial and Residential
We offer a safety inspection using thermal imaging cameras to find hot spots in residential, commercial and Industrial Switch Boards.
This will identify potential problems without requiring expensive investigations.
We provide a report with remedial recommendations and accompanied with the thermal images.
Thermal imaging will identify hot spots which costs industry (and households) money due to sometimes substantial loss of efficiency in the power/switch board and high resistance.
Thermal imaging program will detect a potential fire hazard which cannot be detected with a visual investigation.
A thermographic camera scan will reveal hotspots on switchboard equipment.
Thermal Imaging for Switchboards – Switchboard Repairs Adelaide and Suburbs
For Companies a regular Thermal Imaging Report program can help your business make savings routinely eliminating safety hazards, reducing equipment outages and resultant
business disruptions and costly repairs.
Thermal Imaging is undertaken without any power shutdown and is non-intrusive.